Ainu Textiles, Embroidery & Patterns
26
May
2022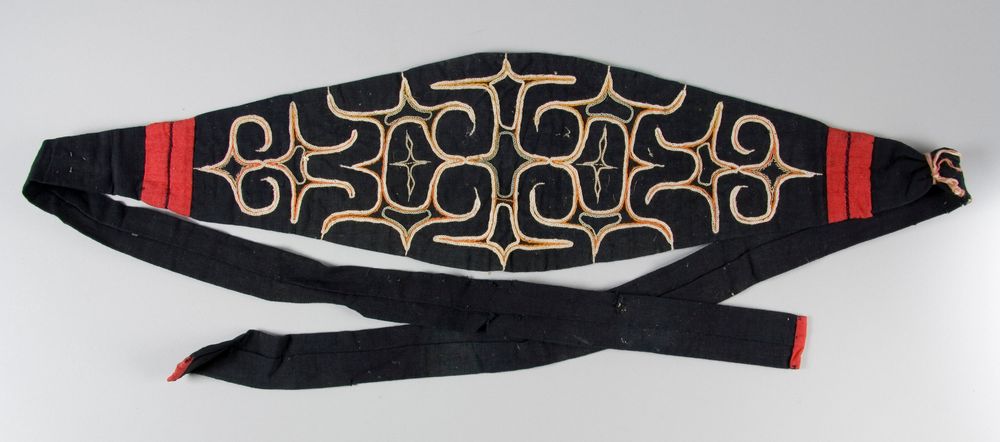 Headbands called "matampus"
To express their fondness for a man, Ainu women usually gave an embroidered hand ornament called "tek-un-pe", putting their feelings with every stroke of the needle as they make it.
The swirly "morew" / The thorn-shaped "ay-us"
This entire back pattern of the pattern is called the "sermak" and serves to protect the body of the wearer (Tenri Sankokan Museum collection)
Hokkaido Place Names
Hokkaido place names referring to flora or fauna (from Chiri 1953:250–333).
Chepsaketumpi = part of Etobi River with no fish.
Chepsakuparanai = part of Uparanai River with no fish.
Chepunmem = spring that fish enter.
Chepunnai = river that fish enter.
Chepunonnenai = main river that fish enter.
Chepunwattar = pool that fish enter.
Chimakinaushpira = cliff with many aralia.
Chiraiunnai = river that taimen enter.
Chirayyokouspet = river where we fish for taimen.
Eshemekushnai = river where the dogs always bark at the bear.
Etaspe-watara = sealion rock.
Furechiusi = place of many lugworms.
Hanrakorushnai = river with Kamchatka lilies.
Hoynu-ka = marten trap.
Humpeomanai = river that whales enter.
Humpeomapet = river that whales enter.
Huppakusnay = river that flows above the place of Sakhalin firs.
Hupryuka = Sakhalin fir log bridge.
Hupusi = place of many Sakhalin firs.
Hupusnai = river with Sakhalin firs.
Hurepukparakot = swamp where we pick vaccinium.
Huttom = hill with a fir wood.
Huttutanup = Tutanup River (literally "thing touching the Sakhalin firs").
Ichan = place where salmon spawn.
Ichanpaomanai = river above where fish spawn.
Ichanuni = place where fish dig spawning holes.
Imaipeusi = place where we always smoke fish.
Iriripushi = place of many nettles.
Iworoto = pond in which we soak elm bast.
Karamayokousi = place where we stalk salmon shark.
Katamkoto = swamp where vaccinium grow.
Kamuypet = river of many bears.
Kamuyteushi = a place of many bear dens.
Keromunonisha = hole in tree for storing reed bent grass for use in winter.

Kikin-onnenai = bird cherry river (main branch).
Kitoionkeshkushnai = river flowing below a bed of Amur silver grass.
Korkoniusnay = river with many butterbur.
Kikiropet = river with many insects.
Kikirunto = lake with insects.
Kinachausnai = river where we cut grass.
Kinausi = place where many grasses grow.
Kitotaushnai = river where we dig for alpine leek.
Kon-oroomapet = river where the salmon or trout dig their spawning holes.
Kupitai = fir wood.
Kutuneusi = place of many giant knotweed.
Mempirotausi = place we always dig for alpine leek.
Moseushnai = river with nettles.
Moseusi = place of many nettles.
Nikurpake = cliff above the woods.
Nikusunpet = in yonder wood there is a river.
Niyomem = spring with trees.
Numusnay = river of many walnuts.
Ochikapewaki = place where the birds (white-tailed eagles) live.
Ochinnai = river where we stretch hides.
Oikarushi = place of many arrowroot.
Okenetampe = alder wood at mouth of the river.
Okitcheusi = place with many birds.
Okuruniusi = place of many aspen.
Onnechep = old fish (a salmon that had finished spawning).
Oputsaknay = river with no spawning holes.
Osarkannai = river with reed beds.
Osarkiusi = place of many reeds.
Osarunpet = river with reed beds.
Osunkuusi = place where many yews grow.
Opsatausi = place we always cut hydrangea wood.
Opsausi = place where many hydrangea grow.
Parakiomanai = there are ticks on this river.
Parakiotnai = tick river.
Pekampeusto = lake with water chestnuts.
Pesankot = damp muddy place where, in the heat of summer, the deer gather.
Peurepunnai = river that the bear cubs enter.
Ponsupununi = small place where dace come.
Pukusatapkop = small mountain with alpine leeks.

Pukusausnot = cape with alpine leek.
Putusarunnai = river mouth with reed beds.
Rarmaniusnay = river with many yews.
Rarmaniusnupuri = mountain with yews.
Ramoi = brown bear.
Rikaseushnai = river where we always carry the whale blubber.
Riatniushpira = cliff with tall Manchurian elms.
Sachirinay = river of the crested kingfisher.
Sakuisar = river that once had reed beds.
Samenai = shark river.
Sarkiusnay = river of many reeds.
Sarkiushporu = cave with many reeds.
Sartomusnay = river among the reed beds.
Sarpaomanai = river above the reed beds.
Sarumaomanai = river above the reed beds.
Sarunpet = river with reed beds.
Setanniushi = place of many crabapples.
Shineniusi = place with a single tree.
Shinkepiporo = part of Bihoro River (Piporonai) where there are many field bush clover.
Shinritonai = river of many milkweed.
Shishuyei = killer whale (?)
Shumkushiyukushto = lake in which we gather water chestnuts.
Shurkutaushnai = river where we dig aconite.
Sinoomanyukoromanay = place where deer enter the river.
Supunpet = river of dace.
Supunnai = river of dace.
Tatniushpira = cliff with many Erman's birches.
Tukushishotpe = place we catch a lot of trout/white-spotted char.
Tukusismoy = trout/white-spotted char bay.
Tukusisunnai = river that the trout/white-spotted char enter.
Tomausnay = river with many corydalis.
Tanneniusi = place where tall trees grow.
Tunayeushi = place where we pull in many whales (?)
Tunnipok = below the oak forest.
Tureptaushnai = river where we dig for cardiocrinum lilies.
Turikarushnai = river where we cut trees.
Ununkoisarkaomanai = river above the reed beds in the gorge.
Upusnot = Sakhalin fir cape.
Urashushnai = river with many bamboo grasses.
Uriroreuushi = cormorants always stop on this (rock).
Uuyniusi = place of many burnt trees.
Wauwonuketoi = place where green pigeons have a mudbath.
Wempiro-us-i = place of many alpine leeks.
Yampet = Chestnut River.
Yarkarushnai = river where we strip the bark.
Yokouspet = river where we stalk fish.
Yuketoiunpe = the deer that eat the clay.
Yukosannai = river from which the deer emerge.
Plant Index (English Names)
Acanthopanax
Aconite
Actinidia
Adenophora
Agrimony
Alder
Aleutian Ragwort
Alpine Leek
Ammodenia
Amur Cork
Amur Maackia
Amur Silver Grass
Anaphalis
Anemone
Angelica
Aralia
Aruncus
Ash
Asiatic Sweetleaf
Asparagus
Bamboo Grass
Beach Rose
Beech
Bladdernut
Bidens
Bindweed
Birch
Bittersweet
Bracket Fungus
Bridewort
Bugbane
Bulrush
Burdock
Bush Pea
Butterbur
Cacalia
Candlestick Lily
Cardamine
Cardiocrinum Lily
Cherry
Chestnut
Chloranthus
Chrysanthemum
Codonopsis
Coelopleurum
Columbine
Conioselinum
Corydalis
Cotton Grass
Cowbane
Cow Parsley
Cow Parsnip
Crabapple

Cremastra
Crowberry
Daimyo Oak
Dandelion
Daphniphyllum
Day Lily
Desmodium
Dog Violet
Dog's Tooth Violet
Dogwood
Dunegrass
Dwarf Siberian Pine
Elaeagnus
Elder
Elsholtzia
Erman's Birch
Euonymus
Field Bush Clover
Fiddlehead Fern
Filipendula
Fireweed
Fumewort
Gastrodia
Gemmed Puffball
Geranium
Guelder rose
Geum
Glossy Buckthorn
Goatsbeard
Greater Celandine
Hawthorn
Heartleaf Hornbeam
Hog Peanut
Holly
Hop
Hornbeam
Horse chestnut (also correct in
Hosta
Hydrangea
Iris
Jack-in-the-Pulpit
Japanese Elm
Japanese Poplar
Japanese Rowan
Juniper
Kalopanax (tree aralia)
Kamchatka Lily
Katsura
Kudzu
Labrador Tea
Lacquer
Lactuca
Lady's Bedstraw
Larch
Leucothoe
Ligustrum
Lily
Linden
Lithospermum
Lonicera
Lungwort
Lysichiton
Magnolia
Maidenhair Fern
Manchurian Elm
Plant Index in English
Manchurian Lilac
Maple
Marsh Marigold
Milkweed
Mistletoe
Mongolian Oak
Mountain Mulberry
Mugwort
Mushroom
Nettle
Northern Groundcone
Nuphar
Orchid
Pachysandra
Peony
Pheasant Eye
Phragmites
Plantago
Pleurospermum
Polygonum
Quassia
Raspberry
Red currant
Reed Bent Grass
Rhamnus
Rhododendron
Rumex
Sakhalin Fir
Sasparilla Ginseng
Schisandra
Scottish Lovage
Scouring Rush
Seaside Ragwort
Sedge
Seseli
Smilacina
Smilax
Solomon's Seal
Spindlewood
Squill
Sweetbriar
Sweet Flag
Sweet Woodruff
Symplocarpus
Thistle
Tree Aralia (kalopanax)
Trillium
Vaccinium
Veronica
Viburnum
Walnut
Water Chestnut
White Hellebore
Wild Grape
Wild Lily-of-the-Valley (Correction:
Wild Lily of the Valley)
Wild Rosemary
Wild Strawberry
Willow
Willow Herb
Wood Fern
Wormwood
Yellow Star of Jerusalem
Yezo Spruce
Yew
Plant Index (Latin Names)
Abies sachalinensis
Acanthopanax divaricatus
Acanthopanax sciadophylloides
Acer cissifolium
Acer ginnala
Acer japonicum
Acer miyabei
Acer mono
Acer palmatum
Acer ukurunduense
Aconitum chinense
Acorus calamus
Actinidia argute
Actinidia polygama
Adenophora thunbergiana
Adenophora triphylla
Adenophora verticillata
Adiantum pedatum
Adonis amurensis
Aesculus turbinate
Agrimonia eupatoria
Allium sect. schoenoprasum G. Don
Allium victorialis
Alnus hirsuta
Alnus japonica
Ammodenia major
Ammodenia oblongifolia
Anaphalis yedoensis
Anemone flaccida
Anthriscus nemorosa
Angelica edulis
Angelica genuflexa
Angelica refracta
Angelica ursina
Aralia cordata
Aralia elata
Arctium lappa
Arisaema peninsulae
Arisaema thunbergii
Artemisia arctica
Artemisia iwayomogi
Artemisia japonica
Artemisia montana
Artemisia vulgaris
Aruncus sylvester
Aruncus dioicus
Asparagus schoberioides
Asperula odorata
Betula davurica
Betula ermanii
Betula maximowicziana
Betula platyphylla
Betula tauschii
Bidens radiate
Boschniakia rossica
Cacalia hastate
Calamagrostis epigejos
Caltha palustris
Calystegia sepium
Calystegia soldanella
Cardamine flexuosa
Cardamine yezoensis
Cardiocrinum glehnii
Carex dispalata
Carex laevirostris
Carex rhynchophysa
Carpinus cordata
Castenea crenata
Celastrus orbiculatus
Cercidiphyllum japonicum
Chelidonium majus
Chloranthus japonicas
Chrysanthemum spp.
Cicuta virosa
Cimicifuga simplex
Cirsium spp.
Codonopsis lanceolate
Codonopsis ussuriensis
Coelopleurum gmelinii
Coelopleurum lucidum
Conoselinum kamtschaticum
Cornus controversa
Corydalis ambigua
Crataegus chlorosarca
Crataegus maximowiczii
Cremastra variabilis
Cynanchum caudatum
Daphniphyllum macropodum
Desmodium oxyphyllum
Dryopteris crassirhizoma
Elaeagnus multiflora
Elaeagnus umbellate
Elsholtzia patrini
Elsholtzia ciliata
Empetrum nigrum
Epilobium angustifolium
Equisetum hyemale
Eriophorum spp.
Erythronium japonicum
Euonymus alatus
Euonymus macropterus
Euonymus oxyphyllus
Euonymus radicans
Euonymus sachalinensis
Euonymus sieboldianus
Fagus crenata
Falcata japonica
Filipendula camtschatica
Fragaria iinumae
Fragaria yezoensis
Fraxinus lanuginosa
Fraxinus mandschurica
Fraxinus sieboldiana
Fritillaria camschatcensis
Ilex crenata
Ilex radicans
Ilex rugosa
Ilex sugerokii
Iris nertschinskia
Juniperus conferta
Gagea lutea
Galium verum
Gastrodia elata
Geranium erianthum
Geranium nepalense
Geranium sibiricum
Geum japonicum
Gymnadenia conopsea
Hemerocallis middendorffii
Heracleum dulce
Hosta rectifolia
Humulus lupulus
Hydrangea paniculata
Juglans mandschurica
Kalopanax pictus
Lactuca lacianata
Lactuca repens
Laportea bulbifera
Laricifomes officinalis
Larix gmelinii
Larix kurilensis
Lespedeza bicolor
Leucothoe chlorantha
Leucothoe grayana
Leymus mollis
Plant Index in Latin
Ligusticum hultenii
Ligustrum obtusifolium
Ligustrum yezoense
Lilium dauricum
Lilium medeoloides
Lithospermum erythrorhizon
Lonicera alpigea
Lonicera caerulea
Lonicera chrysantha
Lonicera sachalinensis
Lysichiton camtschatcense
Maackia amurensis
Magnolia kobus
Magnolia obovata
Maianthemum dilatatum
Mertensia asiatica
Mertensia maritima
Miscanthus sacchariflorus
Morus bombycis
Nuphar japonica
Osmunda japonica
Osmunda cinnamomea
Ostrya japonica
Pachysandra terminalis
Paeonia obovata
Petasites amplus
Petasites japonicas
Phellodendron amurense
Phragmites australis
Plantago asiatica
Pleurospermum camtshaticum
Picea jezoensis
Picrasma quassoides
Pilea viridissima
Pinus pumila
Polygonatum maximowiczii
Polygonatum odoratum
Polygonum aviculare
Polygonum cuspidatum
Polygonum sachalinense
Polygonum weyrichii
Populus sieboldii
Populus maximowiczii
Prunus padus
Prunus sargentii
Prunus ssiori
Quercus dentata
Quercus mongolica
Rhamnus japonica
Rhododendron camtschaticum
Rhododendron japonicum
Rhododendron kaempferi
Rhododendron tomentosum
Rhus ambigua
Rhus trichocarpa
Ribes latifolium
Ribes rubrum
Ribes sachalinense
Ribes triste
Rosa acicularis
Rosa rugose
Rubus chamaemorus
Rubus arcticus
Rubus crataegifolius
Rubus idaeus
Rubus mesogaeus
Rubus parvifolius
Rubus phoenicolasius
Rubus strigosus
Rumex acetosa
Rumex domesticus
Rumex gmelinii
Rumex japonicus
Salix bakko
Salix hultenii
Salix integra
Salix jessoensis
Salix petsusu
Salix rorida
Salix sachalinensis
Sambucus buergeriana
Sambucus racemosa
Sambucus sieboldiana
Sasa kurilensis
Sasa nipponica
Sasa paniculata
Sasa senanensis
Schisandra chinensis
Schisandra nigra
Schisandra repanda
Scilla scilloides
Senecio cannabifolius
Senecio pseudoarnica
Seseli libanotis
Smilacina japonica
Smilax riparia
Sorbus alnifolia
Sorbus americana
Sorbus commixta
Spiraea salicifolia
Staphylea bumalda
Symplocarpus nipponicus
Symplocarpus renifolius
Symplocos chinensis
Syringa amurensis
Syringa reticulata
Taraxacum platycarpum
Taxus cuspidate
Thalictrum aquilegifolium
Thalictrum thunbergii
Thermopsis fabacea
Tilia japonica
Tilia maximowicziana
Toisusu cardiophylla
Trapa natans
Trillium kamtschaticum
Trillium smallii
Typha latifolia
Ulmus davidiana
Ulmus laciniata
Urtica platyphylla
Urtica takedana
Vaccinium chamissonis
Vaccinium ovalifolium
Vaccinium oxycoccos
Vaccinium praestans
Vaccinium smallii
Vaccinium uliginosum
Vaccinium vitis-idaea
Veratrum grandiflorum
Veronica americana
Veronicastrum sibiricum
Viburnum furcatum
Viburnum japonicum
Viburnum opulus
Viburnum wrightii
Viola kamtschadolorum
Viscum album
Vitis coignetiae
Vitis thunbergii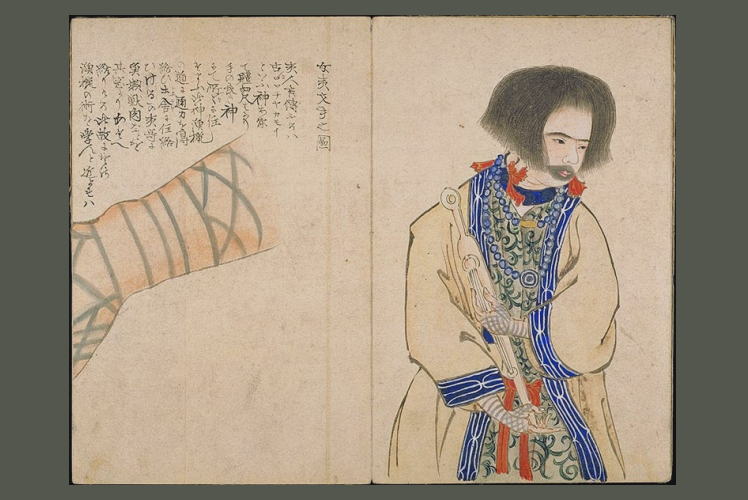 GPS
Click the button to get your position.
GPS Starting Point, For Example, Sapporo Station

GPS Location of Destination