Lamb Hotpot Recipe
19
Mar
2020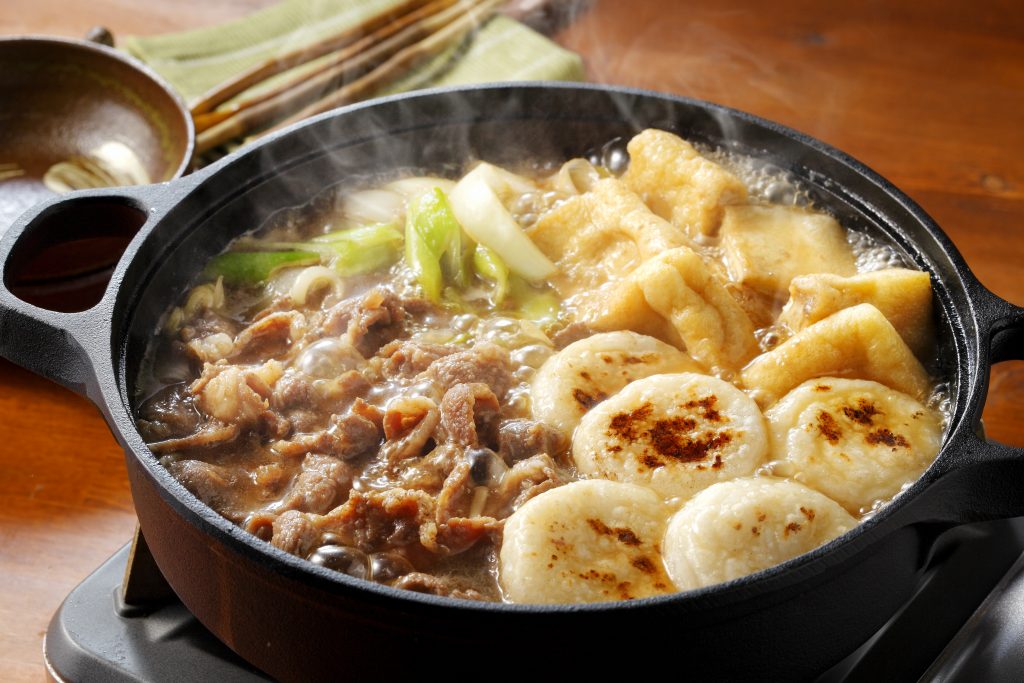 Lamb hotpot is popular in Nayoro City (Kamikawa Subprefecture). Especially lamb hotpot with mochi. You can buy most the ingredients at Aeon supermarket too. Check out a delicious recipe for it below.
Japanese Name: Nikomi Genghis Kan
Recipe
For 4 People
Roughly 521kcal per person
1 1/2 gou (cups) of mochi rice
220ml of Water
flour or potato starch, add as needed
1 pack of marinated lamb
1 onion
1/3 of a cabbage
1 long Japanese onion (naganegi, Allium fistulosum; Welsh onion)
200g bean sprouts
1 piece of abura-age (deep-fried tofu – 15cm x 7.5cm) 27.6g
| | | |
| --- | --- | --- |
| abura-age (rectangular) 1 sheet 15cm x 7.5cm | 27.6g | 113.1kcal |
| abura-age (square) 1 sheet | 16.7g | 68.4kcal |
| abura-age (triangular) 1 sheet | 20.6g | 84.4kcal |
| abura-age (1 blocks) 10.5cm x 10.5cm x 2cm | 144.3g | 216.4kcal |
How to Make it
1. Soak the glutinous mochi rice and for about 30 minutes, then drain it well, and cook it in a rice cooker with water.
2. When cooked, transfer to a bowl, and crush it with a rolling pin to make a rice cake shapes. Roll it into bite-sized pieces, beat it, and fry both sides in a frying pan.
3. Cut the vegetables to size that is easy to eat and fry them, then stew them in a pan with genghis khan, add the fried mochi rice just before eating and boil until the desired hardness.
* This is not sponsored content.
Kamikawa Subprefecture
GPS
Click the button to get your position.
GPS Starting Point, For Example, Sapporo Station

GPS Location of Destination