Hanbey Retro Izakaya Sapporo Susukino
22
Dec
2021
GPS: 43.05604345547935, 141.3519574515736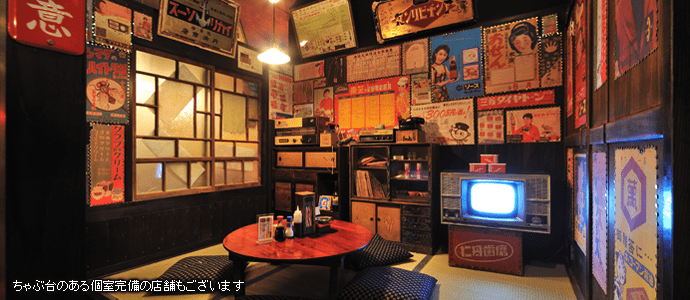 Phone: 011-200-2141
Address: 2F, Kamiya Building, 9-2, South 3 West 4, Sapporo, Hokkaido 060-0063
Open: 5pm to 11pm Everyday
URL: hanbey.com
Charge: No seating charge but a charm charge, 350 yen per person (otoshidai)
43.05604345547935, 141.3519574515736
43.05604345547935, 141.3519574515736
GPS: 43.05604345547935, 141.3519574515736
Service Options: Dine-in · No takeaway · No delivery
To enter the Izakaya, you will need to slide the main door and walk through a lobby full of vintage goodies that will make you forget you are in the 21st century. If you know a little about Japanese manga culture, you'll be delighted to see a mural full of Astro Boy and retro Manga action figures, masks, plushies, toys and posters. You'll walk past robots, trains and even a small black and white television playing old-school anime. The bar's floor and walls are entirely made of dark wood and are covered in ads and posters. The atmosphere is unique and you can feel yourself sliding into a colorful and animated time bubble.
Once you are seated, you can check out the menu and order one of the numerous drinks available in the house. Unfortunately, there is no English menu, but you can always ask the waiter for some help or simply order a beer (which you should pronounce bii-ru) or Nihonshu, a type of Sake that is served in a very traditional way which can be interesting to check out. Did you know that Nihonshu used to be intentionally poured until the alcohol overflew on the table as a symbol of generosity from the house? Today, as an echo to this tradition, the glass is first put into a bowl so the drink can easily overflow without touching the table and avoid any uncomfortable spilling. You will notice, when you receive your drink, that the bowl in which it is served contains some alcohol!
You may also try to ask the waiter if the Nomihoudai option is available, as certain nights the establishment offers all-you-can-drink plans for a few hours, that can be as cheap as 1,000 yen.
The great thing about Hanbey is that, besides its excellent drinks, you can also order a wide range of side dishes. As an Izakaya's main purpose is drinking, you will only find small sides served piece by piece such as Yakitori. However, there are so many options available that you can easily fill your stomach by ordering random pieces. I recommend you try their Yakitori and Tempura… and maybe even some grasshoppers if you feel adventurous! They actually taste sweet as they have been worked with a special topping. There is also unlimited cabbage you can dip into two different sauces, and girls can get free ice-cream.
Around Susukino
GPS
Click the button to get your position.
ボタンをクリックすると、自分の現在地が表示されます。
GPS Starting Point, For Example, Sapporo StationGPSの出発点、例:札幌駅

GPS Location of Destination目的地のGPS位置