Fugetsu 4-Chome Restaurant
31
Jan
2022
GPS: 43.056995803275164, 141.35258665015672
Phone: 011-521-4218
Address: 5F, Arche Building, 12-1, Tanukikouji 4-Chome, South 3 West 4, Central Ward, Sapporo
Operating Hours: 11am till 9pm Wednesday to Sunday
Closed: Mondays & Tuesdays
URL: https://www.fugetsu-sapporo.co.jp/en/shop/
43.056995803275164, 141.35258665015672
43.056995803275164, 141.35258665015672
GPS: 43.056995803275164, 141.35258665015672
This final post is about a place right in the heart of Odori where there's plenty to see and do!
Fugetsu Sapporo is another place in Sapporo that has a special Muslim-friendly menu plus special tables reserved just for Muslim diners. This is so that the grills, utensils and even the condiments (which you'll see more of a little later) are kept under strict control to ensure they are safe/suitable for Muslim consumption.
In fact, when we arrived the place was not crowded at all but we still had to wait for awhile because they needed some time to prepare the special table that was reserved for Muslim diners despite there being several other tables available.
Fugetsu Sapporo was known for a few specialty dishes and quite a few of them involve you cooking your own food on a grill pan right in front of you on the table! I know some people who don't really like that idea that you have to cook your own food (like steamboat and table BBQ etc) but we definitely enjoy it!
And so, we started with Monjayaki – which I have to be honest and say that I'd never even heard of it before in my life let alone try to cook it and then eat it LOL
So Monjayaki is described as a "Japanese soft pancake with filling". Hmmmmm, okay! Got it!
At Fugetsu Sapporo, there was only once choice – Seafood with cheese which came with the 'pancake' batter, cabbage, squid, scallops and prawns. Oh, and cheese of course!
You can choose extra toppings like extra cheese, corn or spring onions for an additional ¥97 each (which is about SGD1.10) which is quite worth it but we didn't get an extras.
Because we were too excited to start cooking it on the grill! LOL
So some of the photos we saw online of Fugetsu Sapporo showed a chef or staff member helping to cook at the table. But I think maybe they thought we looked competent to handle it ourselves so we were left to our own devices.
According to the guide, after we mix everything up, we're supposed to let it sit on the grill pan for awhile. I guess it's supposed to (maybe) go a little bit crispy but we just waited til it was cooked and then we dished it out and makan!
It turned out to be really good too! Think of it as kinda like the ooey gooey parts of Fried Oyster like that. Like macam shiok like that right! Hey, after all, it's supposed to be a SOFT pancake. right? LOL
I decided to go with something a little (same-same but) different – Okonomiyaki!
Yeah this is the stuff you might have seen at the local pasar malam in Singapore. It's that pancake thingy that is normally sold at the same stall as Takoyaki most of the time.
Normally we see toppings like Salmon or Prawns at the pasar malam versions but there are some premium items on the menu at Fugetsu Sapporo. You could go for the Minced Chicken with Spring Onions (¥853), the Seafood which comes with Squid, Scallops and Shrimps (¥972) or go with our choice – Australian Lamb!
So everything comes in a big bowl. You mix up the cabbage, thinly sliced lamb, egg and batter all up before you spread it out on the grill pan.
We like it a little crispy on the outside to we let it sit for a little bit longer. Ooooooh power lah! Nice and crisp on the outside and perfectly cooked on the inside. Creamy with the cabbage and the lamb. Definitely enjoyed it!
At Fugetsu Sapporo, they also give you some condiments on the side and these condiments are certified Halal. This includes sauces, mayonnaise and even those Bonito flakes too.
We only managed to try the mayonnaise because they'd run out of the Halal versions of the sauce and Bonito flakes. Even the mayonnaise also we got the last 2 packets of the Halal version. They had the non-Halal version too and even if you told them you were okay with it, they still wouldn't serve it to you because they don't wanna 'contaminate' the Muslim-friendly utensils and grill pan. Now THAT'S what I call peace of mind!
And if you're worried about the kiddies, try and seat them a bit farther away from the side of the grill if possible but they do line-up some towels along the kiddies' side if needed.
PS the Pedas Mayo is bleargh…
Next up, we went for some good ol' classic Teppanyaki! There are a handful of Halal options for Teppanyaki in Singapore (which is really limited) so it was nice to have some here. But then again, there was no chef around so we ended up cooking everything up ourselves.
They have some sauces like Soy and Teriyaki on the side for you to cook up a storm! Pretty soon, you'll have a full grill in front of you before you know it and you'll be picking food up straight from the grill to your mouth if you like it red hot and tasty!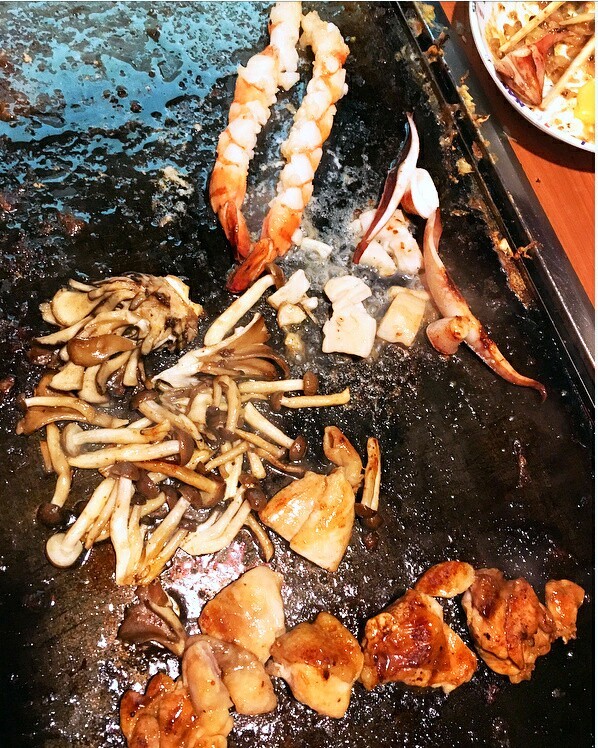 The chicken (apparently flown in Brazil) was seasoned minimally with salt and pepper which was very welcome. If you want extra flavour, you can always add some Teriyaki. But just cook em up as they to a nice char for a great flavour that goes perfectly with the earthy mushrooms.
Hokkaido is known for its seafood so you can tell that they serve fresh stuff pretty much everywhere. The prawns were great but the squid was a bit on the tough side. Perhaps we cooked it for too long on the grill!
But my favourite Teppanyaki item was actually a side dish.
It's such a simple dish but it was so sedap. Just some potatoes (that have already been cooked btw) and some butter. Let them sizzle together on the grill for awhile before quick mix and then gobble it down with gusto. Power!!
Other Teppanyaki choices include Australian Lamb with Vegetables and also Foil Baked Clams. The ones with the Lamb, Seafood and Chicken are actually listed as good for 4 people but I think 2 really hungry people could polish it off with no problem!
Here's a dish that was touted as one of their signature dishes at Fugetsu Sapporo. In the videos playing on screens throughout the restaurant, you can see a chef preparing and frying the noodles ala Teppanyaki style right in front of diners before making the final serving right on the grill in front of you.
Well, alas it was arse luck for us as the chef must have been on his off day lah when we visited. Just like the previous dishes, we were on our own so the noodles came already wrapped up in the egg and just slid off the platter onto our grill table.
But even the missing chef could not take away from the fact that these were really some tasty noodles!! They look a lot like yellow noodles right but they're not. It's actually Soba noodles and they had this really great firm bite. The seasoning also seemed pretty minimal and there were just a few veggies mixed in but it was really sedap.
How sedap was it exactly? After all that food, we ordered a 2nd serving of these noodles.
That's how sedap it was.
One serving can probably feed 3-4 pax but I reckon you'll probably also end up ordering more too. Definitely on the MUST TRY list at Fugetsu Sapporo!
To wash down all that food, you could go for some Suntory All-Free Non-Alcoholic Malt Beverage. This is the same one we enjoyed at Yakiniku Panga in Tokyo recently and the malt flavour goes naturally great with all that grilled food.
But, we REALLY recommend you try the Yubari Melon Soda! Because if there's one thing other than their fresh seafood that Hokkaido is known for, it's their Yubari Melons. Really sweet and with such a great unique flavour! But please remember to order the YUBARI MELON SODA because there is just a regular Melon Soda on the menu that is pretty much like Fruitade.
You could also enjoy soft drinks or the Haskap Berry Soda too by the way.
The nearest stations are Odori and Susukino on the Subway Line.
We found Fugetsu Sapporo on the 'Sapporo Information for Muslim Tourists' website!
Overall, it was a really good experience and definitely a filling meal at Fugetsu Sapporo. After dining there, you can walk it off at the shopping street with plenty to see and buy. This is also the place where I won those Star Wars toys at the arcade if you followed our trip on Facebook and Instagram while we were there!
Oh! And besides seeing the sights, hop on one of those trams that goes by on the streets okay!
The Old Fugetsu Sapporo Restaurant entrance, Liberty Building, before the building was knocked down.
Around Odori Park
GPS
Click the button to get your position.
GPS Starting Point, For Example, Sapporo Station

GPS Location of Destination