Kojohama Hot Springs, Shimamu Beach
03
Mar
2020
GPS: 42.45435648961858, 141.20465538834645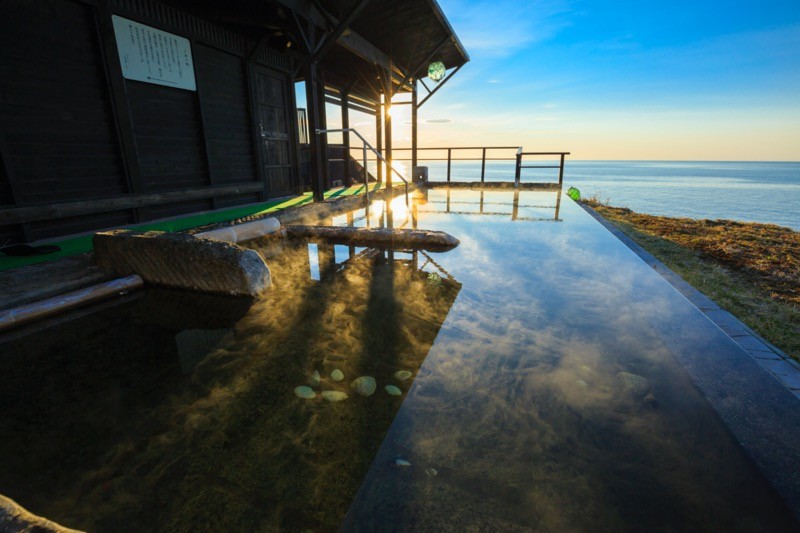 Phone: 0144-87-6111
Address: Kojohama, 289-3, Shiraoi-cho, Shiraoi-gun, Hokkaido 059-0641
* No tattoos allowed. You can use the hot spring if you cover tattoos with tape though.
42.45435648961858, 141.20465538834645
42.45435648961858, 141.20465538834645
GPS: 42.45435648961858, 141.20465538834645
Kojohama Hot Springs
Located on the Shakotan peninsula near the Shimamu Beach, the resort offers soaks in the hot springs, exquisite local dining, and an opportunity to become one with nature. On a clear night the stars can be seen clearly, and one can look forward to greeting the sunrise in the morning.
A sense of openness is the ultimate solace; the bath with a spectacular view of Funka Bay.
Soaking inside an outdoor hot tub that makes you feel as though you are a part of the Pacific Ocean, is the ultimate luxury of a stay on the seaside. We have public indoor and outdoor baths, both of which are extremely spacious.
As you soak in the hot springs known as "bijin-no-yu" meaning "beauty bath" you can feel your skin become silky smooth, and your heart become mellow.
Will it be the sea, the moon or the stars? What beautiful seascape will you be served tonight?
*Bihaku-no-Yu – A natural hot spring with a spring water that is milky, like skin lotion. We also have a low temperature sauna with a Japanese mugwort aroma.
Hours: 14:00 – 11:00
*The public baths are cleaned everyday between 1:00 and 4:00 AM, during spring and summer. Winter cleaning hours are between 1:00 and 5:00 AM. We change the cleaning time depending on the season, so that our guests can enjoy the sunrise from the bath.
*Chartered Bath – Large windows face the Pacific Ocean in the spacious chartered bath that houses both a stone tub, and a Japanese cypress tub. Enjoy the luxury of hot springs in private.
Hours and fee: ¥2,160 for 50 min (by reservation) Hours: 14:00 – 24:00 (must enter by 23:00) / 6:00 – 11:00 (must enter by 10:00)
*Bedrock Bath (sauna) – Black silica rock heats the body from within, and help to remove toxins from the body. There are two private saunas that can accommodate up to 3 people at once. Heal your body under a gentle, ambient glow.
Fee: ¥2,160 for 50 min (be reservation) Hours: 14:00 – 23:00 (must enter by 22:00)
*Poetic Relaxation – A rest area in the spa zone, where you can enjoy a healthy drink, and relax your muscles in the massage chair.
*Seasonal Bath – Wildflowers and kelp harvested near Shiraoi infuse the bath water for a seasonal feeling. Enjoy the aromas each season has to offer.
*We have both men's and women's baths.
*No tattoos allowed at Kojohama Hot Springs.
Relax at Kojohama Hot Springs
URL: https://www.kokorono-resort.com/english/
Iburi Subprefecture
GPS
Click the button to get your position.
GPS Starting Point, For Example, Sapporo Station

GPS Location of Destination